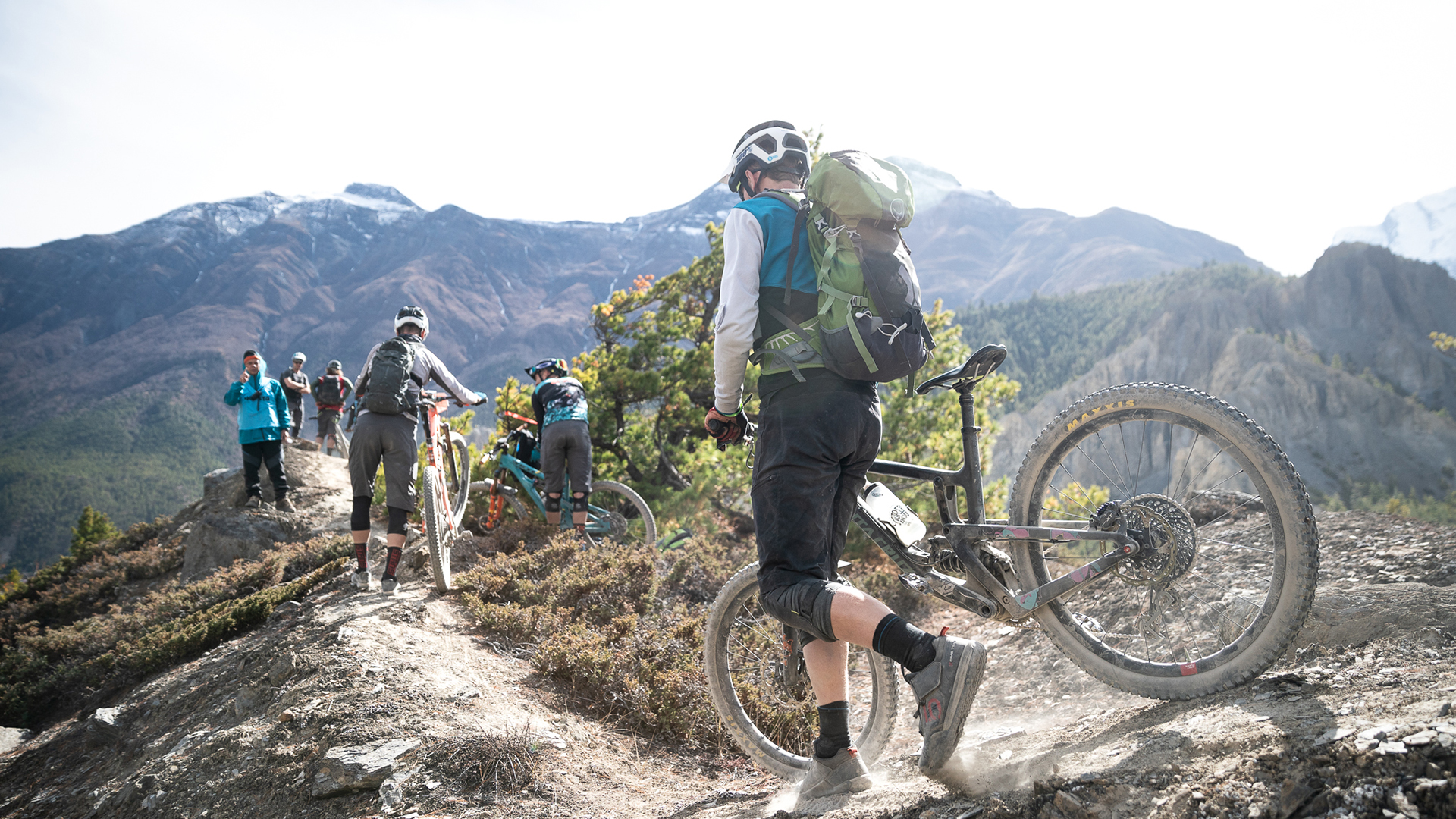 Yak Ru as a mountain bike race challenges participants with harsh conditions over a variety of terrain, and with the possibility of temperatures ranging between the hot arid desert to sub-zero alpine. Most cyclists who embark on the Yak Ru pose questions along the lines of how to dress in a way that is both versatile and weight-conscious but also provides a margin of comfort and safety. Here's how we suggest you go about gearing up:

Head
– In Nepal, conditions can change rapidly, and having a lightweight head-warming garment should be a bare minimum requirement, even on the sunniest or calmest of days.
– More than 25% of body heat can be lost through the head and neck, due to a large number of blood vessels situated there. Exposer to wind and rain can compound the feeling of cold even if other parts of your body are swaddled up. A light beanie that can fit under your helmet is an excellent idea to guard against alpine weather or only the chill of descending a hill fast on the MTB.
– A good alternative is a Buff or neck gaiter, both regular or insulated versions. This can be worn in various ways that include acting as a mask to shield against dust clouds kicked up from riding at high speeds or strong winds. A regular Buff also serves as a great way to keep cool in hot weather. Simply soak in cold water and wear atop your head or around your neck. This acts as a heat exchanger and keeps your head more refreshing than just sweating it out uncovered.
Torso
– Regular cycling apparel will work in a pinch, but the higher you go, especially in Nepal, the more likely you will need insulation against the cold and also some form of protection from wet and windy conditions. The layering concept is essential here, and it makes sense to choose clothing that is easy to vent (look for easy-to-use zippers with big tabs and smooth action) and also easy to stow if they are really not needed. Remember, while racing, you will encounter temperatures that range very widely, so you need to have the ability to put on and shed layers from stage to stage, or sometimes during a stage itself.
– Keeping the wind and rain/snow off your skin is a critical requirement when facing mountain-borne weather conditions. Waterproof and windproof layers, or 'shell' garments as they are popularly known, are always an excellent option to take along. A versatile choice is a lightweight nylon windbreaker shell (sometimes with a hood) that can be rolled into a ball and stowed in a jersey pocket. A heavier softshell or storm shell jacket, on the other hand, might be more suitable for colder and harsher conditions.
– Material matters. Do some research into different materials and their qualities. Quick-drying, sweat-wicking garments that are cycling-specific can be successfully worn, although mountaineering/trekking gear that you will seldom see worn by 'regular cyclists' does see widespread usage. Consider investing in down, wool, or synthetic apparel – for insulation, baselayers, and definitely as spare or emergency clothing in your non-racing duffel bag.
Arms / Hands
– Arm warmers are versatile: they can keep the sun off bare skin in strong sunlight, and (as their name suggests) keep your arms warm without having to resort to bringing an entire extra long-sleeved garment. Like the beanie, they should be able to fit into a back jersey pocket if they are not needed.
– Full-fingered gloves are a mountain bike essential; do not be caught out with half-finger gloves, which are rather dangerous because they leave your fingers exposed in the event of a crash or fall. For the cold, insulated gloves are a good option. Another system is possibly wearing windproof/waterproof gloves over your existing MTB gloves. This system of layering works provided the over-gloves are thin enough that they still allow for excellent braking and shifting control.
Legs
– It goes without saying that a good pair of cycling shorts or bib shorts is priceless out on the trail of a remote stage race such as the Yak Ru. Invest in a tried-and-tested, comfortable, high-quality pair that will not let you down, then bring an extra one or two more. Like wool cycling tops, wool cycling shorts do exist! More importantly, choose a pair that will allow you to function with the items mentioned below.
– Similar to arm warmers, leg warmers are a daggy but useful piece of equipment if they can be sourced in the correct form and are of decent quality. They are more versatile and more accessible to stow than tights/leggings out on the trail. That said, tights and leggings do have their merits: as base layer insulation or for compression/recovery benefits. They can be worn around camp and during rest in-between stages.
– For significant efforts at high altitude, especially the hike up to Thorong La Pass, keeping extra warm might mean investing in waterproof pants. Lightweight but reinforced waterproof shell pants will be, especially in snowy conditions, especially when paired with the leg-warmers mentioned above, tights, and cycling shorts underneath.
Feet
– It starts with a sturdy pair of cycling shoes. Something that is not too snug but allows all-day comfort and especially thicker socks to be worn. A reasonably affordable, high-quality footwear sporting a rubber outsole and some in-built flex makes more sense in a race where there will be substantial hike-a-bike segments – rather than a high-end, stiff cross-country model.
– Socks can make or break a race. Go for comfort and practical features such as a high cuff (to prevent debris from getting inside). In cold, possibly snowy altitudes, where some hiking is a certainty, socks must be able to insulate and provide some degree of 'toe-wiggle room' despite the snug fit of most bike shoes.
– Wet shoes = wet feet in the cold can be rather dangerous as they can lead to severe injuries for the feet if not taken care of. A lightweight but effective method to prevent this is to have waterproof socks over a light pair of cycling or liner socks. That way, even though the shoes may be soaked from melted snow, the feet will remain dry and warm.
Some extra bonus tips that will help you in the temperature regulation game:
– Hydrate frequently and constantly. It is easy to remember to drink in a hot environment – where you feel the discomfort of heat and sweat is pouring off you. Hydration also plays a crucial role in keeping you warm – so it is just as essential to keep up a hydration regime when you are faced with cold. It is easier to forget or neglect a drinking regime as the typical feeling of thirst can be offset by the sensations associated with exposure to cold and wind.
– Keep up your nutrition. Similar to hydrating, eating ensures that you have enough calories to burn that your body requires to keep moving and to maintain your core temperature. In hot weather, certain foods will perform well while others will be unpalatable, as would be the case in cold weather. A classic example is chocolate, which does well when temperatures are mild, but melts into a gooey mess in the heat. Make sure in training that you test the foods you will be taking along for the event.
– The first goal is to survive the race. Consider some extra food, an emergency foil blanket, and spare warm clothing; acquire basic knowledge in first-aid and fieldcraft that will be involved in your decision-making; learn how to attract attention to oneself in case of an emergency. All handy tools that should be a part of your preparations for Yak Ru.
– Finally, remain proactive, not reactive, to changes in ongoing weather conditions. The best gear in the world will not save you unless you know when what apparels have their various uses. Select clothing that is easy to get on and off for a start, but makes sure you make a conscious decision modify your layers early and not leave it till too late (when you might be too tired or too wet/hot/dehydrated/hypothermic) to make the crucial decisions in worsening weather.
Author
Wilson Low completed the inaugural Yak Ru Annapurna Challenge in 2014. A self-professed outdoor endurance junkie, his past competition experiences have included the Cape Epic; qualification and completion of the Ironman, 70.3, XTERRA, and Multisport World Championships; and several expedition-length and multi-stage adventure races. Wilson is based in sea-level Singapore and works as a professional mountain bike skills instructor with MTBSkills Singapore as well as a triathlon coach with Athlete Lab.
www.mtbskills.com.sg, www.athlete-lab.com