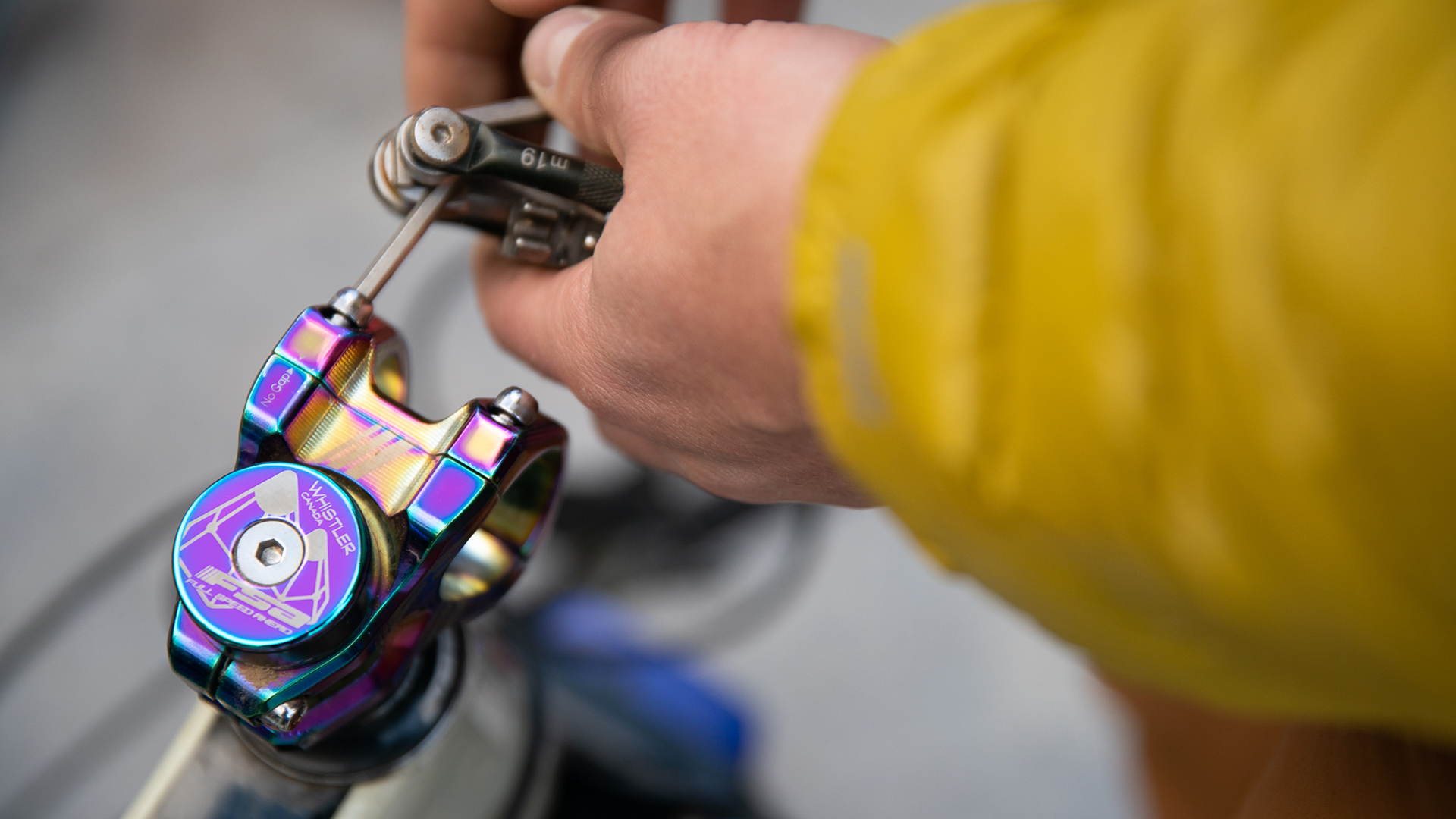 Being out in the mountains on your bike means being prepared to treat any mechanical issues that may occur. Part of the allure of riding in a beautiful but remote landscape such as Nepal's is that element of self-sufficiency – getting through problems encountered on the ride without the help of a mechanic or anyone else besides other racers.

The survival kit
And so we come to discussing what spares and repair kit to take out on the Yak Ru. Many MTB riders (in any event or riding situation, not just the Yak Ru race)can learn from racers who need to pack the right amount of gear to get themselves and their bikes to the finish line – without lugging too many extra items.
Achieving the right balance is not easy: carry too much weight on your bike or back – that hinders your racing aspirations, or getting caught out with not enough gear in case something happens that leaves you stranded. Studying the load-out of modern-day mountain bikers and their high-tech bikes embarking on long-distance epic rides, enduro races, or marathon events – one common thread prevails that Yak Ru participants should heed: in remote locations, a little bit of extra weight does not hurt, and can often ensure a good result.
Only carry what you need
One should only carry as much as one needs and not give in to the temptation to bring more 'just because you have the capacity.' If you take a 20-liter hydration backpack, you are going to find some way to fill it up (or else carry around a floppy backpack that is too big anyway); instead, opt for the smallest backpack or carrying system (bottle cages, + jersey pockets for the lightweight fans) that enables you to safely carry all you need.
Whatever spares you figure you MIGHT need to serve up your bike between stages, but not race with, you should put into your 'camp bag' – the bag that gets transported by vehicle or porters between each stage's starting and ending points. We have included these items in the last section of this article.
Hydration / Storage
– Hydration backpack – carry from 1 to 3 liters of water; also a convenient place for all the spares/kit and clothing you will be taking along
– Bottles – the lightweight option for fast stages at low altitude (preceding the hydration pack as carrying extra cold-weather clothing is not a necessity); ensure your bike frame has enough bottle cages, and plan your water re-fill stops properly
Tools
– Multi-tool – get one with a chain breaker attachment
– Tire levers – some tires are easy to get off the rim with bare fingers, these are for the instances when this is not the case
– Hand pump – MTB-specific one that is high-volume; ensure that IT WORKS
– 2x CO2 cartridges + inflator – for getting re-inflated in a hurry
Spares
– Patch kit
– Inner tubes – 1x typically; 2x if you expect it to be rough-going or technical
– 2x chain links (such as the SRAM Powerlink)
– Spare rear derailleur hanger – must include the bolt that attaches it to the frame
– Spare brake pads – you can leave this with your camp bag
– Spare valve and valve core – for tubeless systems
Miscellaneous
– Duct tape or electrician's tape – wrap a few feet of these tapes around your hand pump
– Cable ties – get a handful of long, big ones
– Mini bottle of chain lube – in case of really muddy and wet stages
– Toilet paper (in a ziplock bag)
– Money – a couple of hundred Nepalese rupees for that all-important mid-stage emergency snack, drink, or post-stage meal
– Spare food
Stuff for In-Between Stages
– More tape – you can never have enough
– More inner tubes
– More brake pads
– More chain links
– Shock pump
– Spare hand pump
– Spare chain
– Spare derailleur – saves you from doing the remainder of the stage on a single-speed bike
– Spare derailleur cable – cut to the correct length
– Spare disc brake rotor(s) (and bolts)
– Spare tire – if you end up ripping a great big hole in your tire and need it replaced
– Spare pedal cleats and bolts (for those with clip-in pedals and shoes)
– Super glue – for smaller repairs and sealing bigger holes in tires
– Waterproof contact adhesive – great for repairing shoes
– Pocketknife / multi-tool with pliers and blade attachments
– Chain Lube
The verdict
We finish off this checklist with these words of advice: out on the Annapurna Circuit, any mechanical disasters can be solved with some ingenious tinkering and cobbling and get you back into race mode. Some of these items start to make sense if you consider the remoteness of the race location and the fact that modern mountain bikes are now so reliant on technology that a minor problem can quickly become a big one in the absence of a well-stocked bicycle shop or a skilled mechanic.
Get familiar with carrying and using these items. They could turn your mechanical misfortunes around, making race experience a whole lot more enjoyable by saving you a long, frustrating walk for the sake of completion.
Author
Wilson Low completed the inaugural Yak Ru Annapurna Challenge in 2014. A self-professed outdoor endurance junkie, his past competition experiences have included the Cape Epic; qualification and completion of the Ironman, 70.3, XTERRA, and Multisport World Championships; and several expedition-length and multi-stage adventure races. Wilson is based in sea-level Singapore and works as a professional mountain bike skills instructor with MTBSkills Singapore as well as a triathlon coach with Athlete Lab.
www.mtbskills.com.sg, www.athlete-lab.com