As the dawn breaks on a crisp November morning, warm Sunlight reflects over the eight thousand meters Annapurna massif. Forty riders wake up in anticipation to shred some really big, fast, flowy, and gravity led single-tracks from a height of 4100 meters. The adrenaline rush continues over three days of blind enduro racing. Welcome to the world's highest blind enduro race scheduled to take place in the Annapurna mountains of Nepal from 11 to 20 November 2020. This is your chance to rub shoulders and ride alongside some of the world's greatest enduro riders.
Since the race explores remote trails of Manang valley in the form a blind enduro race, there is plenty of opportunities to marvel at nature's imagination while forming the landscape. This fantastic landscape has been the home of some of the unique flora and faunas not found anywhere in the world such as Red pandas and Snow Leopards. Manangis have been living in these mountain enclaves in perfect harmony with the mountains and these nature's creations for centuries, practising their belief.
Riders get to experience an ancient culture that still thrives in these remotest part of Nepal.
Blind race
Riders race blind on sections of breathtaking terrain pine and birch forest singletrack, high-speed flow through alpine pastures, rocky switchbacks, steep ridgelines, and generations-old trails passing remote settlements and religious monuments. Participants wishing to challenge themselves and explore one of the most magical landscapes to ride a mountain bike in will be enthralled by the terrain the Yak Ru passes through.
Format
Yak Ru's enduro racing format allows riders of various abilities from pros to amateurs to mingle, swap stories, and take in the amazing scenery, while still allowing themselves to push their limits. Only certain sections of the race are timed: these mainly downhill stages have been selected as amongst the very best trails that the Manang region has to offer, and will be raced blind without prior practice. This area is also culturally rich and boasts diverse wildlife, affording riders an all-encompassing Nepali experience during their time here.
Acclimatize
The special demands of racing in such thin air require all riders from lower altitudes to do an untimed group acclimatization ride and a prologue before reaching our main base camp, the village of Ngawal, the day before racing commences.
Distance
Over the 3 racing days, riders will be covering 40km of riding and challenged on 8-10 timed stages. Due to the steepness and remoteness of the course, riders can be expected to carry/walk with their bikes for some uphill parts of the untimed transfer stages. Riders will also receive limited assistance in the form of vehicle uplifts to reach some of the timed stages.
Untimed group rides
At the conclusion of racing, one full day of untimed group 'celebration' rides will see us descending 80km and drop 3000m (9800ft), a fitting post-competition wrap-up this mountain bike experience of a lifetime.
Skill Level / Experience
Riders should come prepared with sufficient physical conditioning & fitness for five consecutive days of between 2-6hrs of riding, hiking, & bike carrying each day. Riders must possess solid technical & singletrack riding skills. All parts of the route whether non-competitive or timed – will vary significantly during the five days, and will include fast, flowy sections as well as rocky, muddy, or rooty sections with varying amounts of steepness and exposure. Riders are advised to be prepared for alpine conditions with the possibility of intense sunlight, rain, snow, strong winds, and with sudden changes in temperature & weather – and should equip themselves accordingly. Riders should be aware of the effects of high altitude on their health and fitness, and train themselves thus – all race stages take place above 3200m elevation.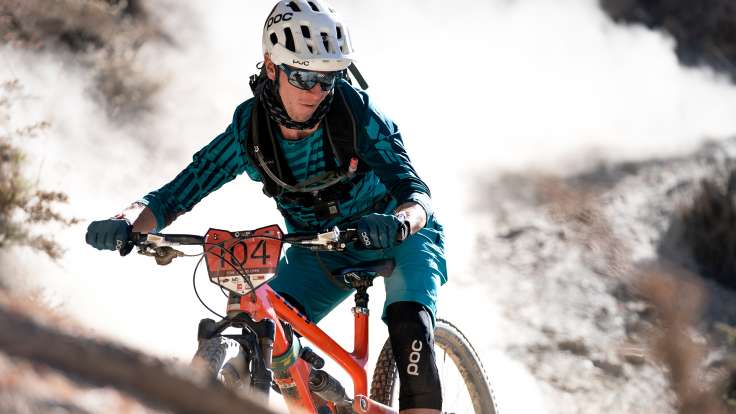 I'd come back, this place is nuts.
Tom Sampsons – Winner Yak Ru Enduro 2019